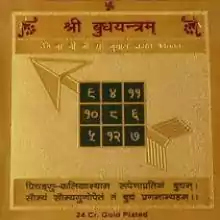 According to Ancient Vedic Texts, Mercury is considered Prince of the Solar System. Mercury is closest to the planet Sun, and it is a characteristic supporter of Business and Speech. The planet Mercury is the Lord of the zodiac sign Gemini and Virgo. The planet Mercury is EXALTED in sign Virgo and DEBILITATED in sign Pisces. The planet Mercury represents Education, Intelligence, Business, Friends, Speech, Mathematics, Salesmanship, Brokerage, Journalism, Banking, Skin, Astrology, Lawyer, Publishers and Writers.
At whatever point planet Mercury is placed in its sign or its EXALTATION sign, in the first, fourth, seventh or tenth place of the horoscope, it is known as Bhadra Panch Mahapurush Yoga which makes a man extraordinarily savvy and extensive.
A man with a week or malefic Mercury experiences infections of Nerves, Brain, Nervous Breakdown, Skin Diseases, Speech absconds like Stammering, Insomnia and Sexual Weakness like Impotence.
Using this yantra will nullify the adverse effects of Mercury in your chart.