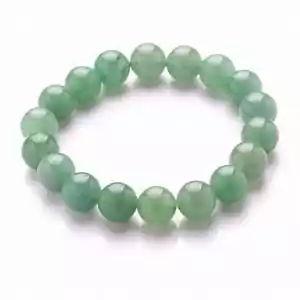 Green Aventurine is a stone of luck that brings in luck in all affairs, including, love, health, business, prosperity, wealth, love & opportunities. It is thought to be a comforter and heart healer, benefiting general well-being and emotional calm.
The benefits of wearing a Green Aventurine Bracelet are countless. It clears obstacles and opens the door to new opportunities. It helps to manifest desires, wealth, and success. It helps in attracting the love of life. Also ensures success in any business.
Anybody can wear the Green Aventurine Bracelet for overall success. Wear the Green Aventurine Bracelet in either hand. It will fit nicely around any size arm and can stretch if need be.
To clear your bracelet place it in pure water for a short time to sweep away the negative energy.