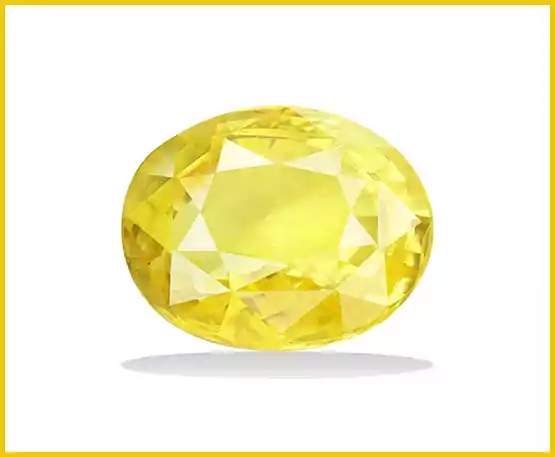 A Yellow Sapphire Gemstone is a naturally occurring Gemstone. Consisting basically of corundum (aluminum oxide) and is tinged with slight traces of iron the metal which leads to its beautiful yellow hue. Found usually in igneous rocks and alluvial deposits. This amazing stone has long held the admiration and wonder of all kinds of people from travelers and explorers to kings and queens. Carving and cutting of the natural stone create the brilliantly lit and cut gemstone that is one of the most valued of all precious stones. A yellow sapphire has considerable sparkle and might display different colors when viewed from different angles. Sapphires can be heat treated. Diffused with beryllium or irradiated to preserve and enhance their yellow brilliance — but the naturally occurring sapphires are still the most valued.
Called pushparaga in Sinhalese and Sanskrit. and usually known in India as Pukhraj. The yellow sapphire Stones are connected to the planet Jupiter Jupiter. the largest planet in the solar system. is associated with virtues of luck and prosperity. The biggest benefit of Jupiter is to propel a person towards happiness and fulfillment, and thus the right use of the yellow sapphire. Gemstones can benefit the same. As Jupiter is rightly called Gum (teacher) in Hindu mythology. one can especially bring himself/herself fortune in the fields of teaching, Professorship, Law, trade, business, etc. The Peela pukhraj is also associated with fertility and good marriage. Ifs supposed to be beneficial
For unmarried women (and men) who are looking for stability in future marriages. and also for married couples for peace and reduction in marital conflicts. In terms of ailments. The yellow sapphire in touch with the wearer's skin has numerous effects in eradicating throat and thyroid problems.
Actual Product May Differ From Image Shown​
Yellow Sapphire (Ceylon) (4.8 ct.) (20000 per ct.)