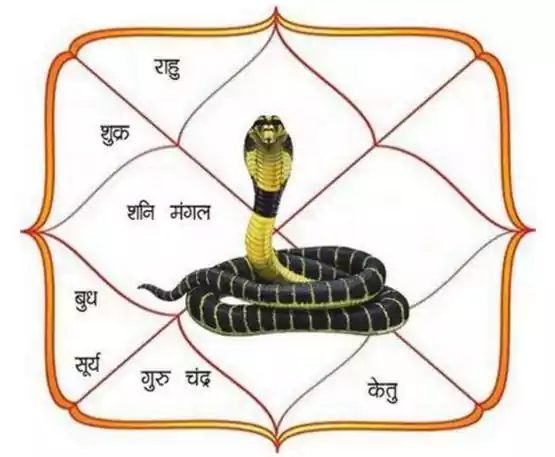 In a horoscope, if every one of the planets is set amongst Rahu and Ketu, Kaal Sarp yoga is formed. As indicated by Vedic astrology, there are many sorts of Kaal Sarp yogas. Somebody having a Kaal Sarp Yoga in the horoscope faces various sorts of issues related to money, descendants, mental anxiety, delay in professional development, etc. This condition is normally considered to be adverse, however, it can be diminished through a Kaal Sarp puja as per old Vedic writings.
Puja Procedure: Shanti Path, Swasti Vachan, Sankalp, Ganesh Sthapan, Kalash Sthapan, Surya Dev Sthapan, Lakshmi Sthapan, Navgrah Sthapan, Surya Dev Sthapan, Brahma Sthapan, Agni Sthapan, Invocation of all Gods and Goddesses, Navgrah Mantra Japa, Naag Suktam Path, Mansha Devi Stotra Path, Sarpa Gayatri Japa for 31000 times, Homa with Ghee, Sugar, Til, Navgraha Samidha and then Purnahuti with Dry Coconut filled with Samidha & Ghee, Aarti by leaned brahmins.
Duration of this Puja : 3-4 hours daily for a week
Number of Priests 3 Priests
We will inform you of the date, time, and venue of Online Kalsarpa Yog Shanti via Phone and you and your family are welcome to attend the same.
The "Prasad" of the puja is sent to the client via couriers. This Prasad includes the following items that have been energized during the puja.
Kalsarpa dosha Niravan Yantra
Energized Rudraksha during the Puja
Beetle Nut
Energized Red Thread (Mouli)
Kumkum and Akshat (Rice)
Energized Gomati Chakra
Havan Bhasma
Dry fruits Prasadam.
Acharya Sumedh Narayan Soni,
Astrologer in Mohali