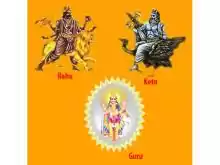 Guru Chandal yog is formed in your horoscope when Guru and Rahu are together or respecting each other. The person who is affected by this yoga cannot think clearly and can't make the right decisions as per Vedic texts. Also, it becomes difficult for him to succeed in life. To get rid of this you there is a specific Puja known as Guru Chandal Dosh Nivaran Puja as per the Shastras which helps the person lead a better life as per Vedic texts. If you are afflicted with this dosh, we suggest you get Guru Chandal Dosh Nivaran Puja done at the earliest to lead a Happier and Wealthier life.
Duration of this Puja : 3-4 hours daily for a week
Number of Priests 3 Priests
We will inform you of the date, time, and venue of Online Guru Chandal Dosh Nivaran Puja via Phone and you and your family are welcome to attend the same.
The "Prasad" of the puja is sent to the client via couriers. This Prasad includes the following items that have been energized during the puja.
Guru Chandal Dosh Nivaran Yantra
Energized Rudraksha during the Puja
Beetle Nut
Energized Red Thread (Mouli)
Kumkum and Akshat (Rice)
Energized Gomati Chakra
Havan Bhasma
Dry fruits Prasadam.
Acharya Sumedh Narayan Soni,
Astrologer in Mohali