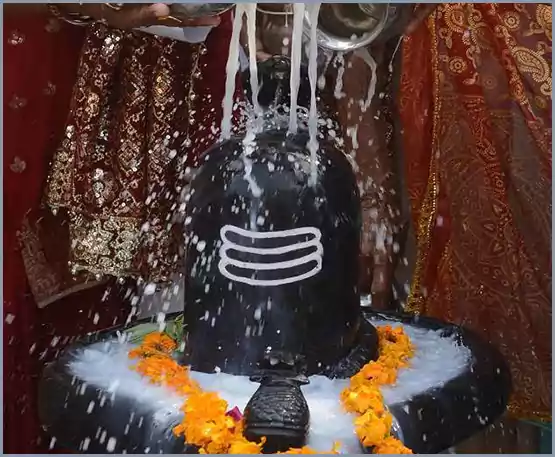 In this Puja, Lord Shiva is worshiped in His Rudra form, which is suggested by Vedic scriptures as one of the greatest Poojas to remove all evils, to fulfill all desires, and for growth & prosperity. In this Pooja after the traditional Ganesha Pooja, Kalasha sthapana the Shiva Linga sthapana, etc, is done. Then Laghunyasa is recited. The Shivopasana mantra and the Shiv sahastranaam are recited. Sri Rudram (chapter 16 & 18 of Yajur Veda) is recited and the Linga abhishekam is done with the ingredients like water, curd, ghee, milk, honey, etc. Reciting Sri Rudram in rhythm purifies the entire atmosphere. Whether you want peace or prosperity, progress in profession, progeny, health, or wealth the Rudrabhishekam Pooja is the best. It is done in your name and with your sankalpa, i.e., the specific desire for which you are getting the pooja performed. This Pooja will be performed specially for you.
We will inform you of the date, time, and venue of Online Rudrabhisheka Pooja (12 Rudrabhisheka) and Homam via Phone and your representatives are welcome to attend the same. Our Prices include the following :
The "Prasad" of the puja is sent to the client via couriers. This Prasad includes the following items that have been energized during the puja.
Shri Yantra
Energized Rudraksha during the Puja
Beetle Nut
Energized Red Thread (Mouli)
Kumkum and Akshat (Rice)
Energized Gomati Chakra
Havan Bhasma
Dry fruits Prasadam.
Acharya Sumedh Narayan Soni,
Astrologer in Mohali