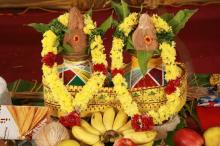 Thus pooja is very effective for delayed marriage, marital problems and Mangala Dosha . Devi is worshiped in the form of Mangala Gauri and pooja is performed with shodasopacharas and namavali pooja.
According to Hinduism, Goddess Gauri (Parvati) stands as a symbol of happily married women. Hindus conclude that only by conducting Mangala Gauri Puja can a Hindu woman find a decent husband and have a happy married life.
Mata Gauri or Mangala Gauri is thought to bring purity into a person's life. In Hindu mythology, she is known as the goddess or Devi of the Shravan month.
Benefits of Mangala Gauri Puja:
· Women facing the issue of delayed marriage must act Mangala Gauri Puja. Hindu scriptures affirmed that devotion towards Mata Gauri solves marital disputes.
· Besides, the goddess will bless you with your desired life partner.
· This activity will also resolve struggles between you and your partner.
· Most importantly, if your birth chart shows Mangal or Manglik Dosha (effects of Mars), Mangala Gauri Puja will further remove the influence of Mars from your fate.
Gauri puja brings prosperity, wealth, happiness, fortune, and blessings of a happy marriage. You must perform Gauri puja in life.