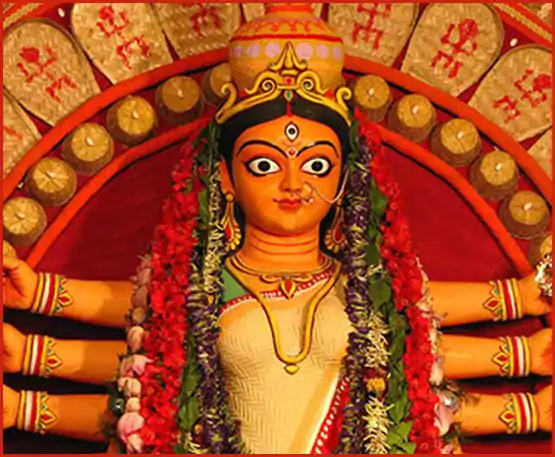 This is one of the major homam and one of the most prescribed ones for removal of all doshas and success in all undertakings, especially for victory over enemies and court cases. Elaborate Devi pooja is performed. MahaDevi is worshiped in the form of Saraswati, Lakshmi, and Chandi. 700 slokas from Durga Saptashati is recited fully and havan is performed by reciting Chandi mantra — Aim Hrim KIim Chamundaye Vichhe. After that Suhasini pooja, Dampati pooja ,Kanya pooja and then Brahmachari pooja is done. It can be performed specially for you. You can also order it for whole families together.
We will inform you of the date, time, and venue of Online Chandi Homam via Phone and your representatives are welcome to attend the same. Our Prices include the following :
The "Prasad" of the puja is sent to the client via couriers. This Prasad includes the following items that have been energized during the puja.
Shri Yantra
Energized Rudraksha during the Puja
Energized Red Thread (Mouli)
Beetle Nut
Energized Gomati Chakra
Kumkum and Akshat (Rice)
Havan Vibhuti
Dry fruits Prasadam.
Acharya Sumedh Narayan Soni,
Astrologer in Mohali
Chandi Homam is a well-known and strong homa for achieving ultimate success in all endeavors and removing all types of doshas and challenges from one's life. The primary Deity of this homam is Maa Durga in the form of Devi Chandi, and her blessings are guaranteed to remove all barriers and pitfalls in your way to prosperity and glory. Maha Chandi Homam performance.
The Chandi Path liberates a person from all forms of Black Magic, Evil Eyes, Obstacles, Negative Energies, and Evil deeds directed towards him, and the person is rewarded with long-term health, wealth, and prosperity.
Chandi Homam | Chandi Yagam also helps individual win battles with enemies and in court. An elaborate Puja and Homam are performed for Devi Durga during this Chandi Yagam. Goddess Durga is worshipped as a girl child under the age of ten (Kanya) in this Homam, so girls in the same age group are worshipped during this puja and homam.
Benefits of Performing Chandi Homam:
By performing the Chandi homa, the sufferings that are caused by hostile elements, are eradicated. The sufferings resulting from poison, sorcery, thieves, etc., are removed by performing this homam.
Chandi homam is performed to attain better health, prosperity, longevity, food, wealth, progeny, fame, success, strength, etc,
Helps in removal of fear, ailments, danger, defeat in the hand of adversaries, etc.
By performing the homa five times, evil planetary influences are removed.

The performance of this homa seven times removes all fears,
performance eleven times begets royal influence
sixteen times beget progeny.

Chandi Homam helps in overcoming obstacles and barriers in life.
Helps you attain success and win over one's enemies.
Blesses one's life with positivity and happiness.
Liberates one from evil eyes and curses.