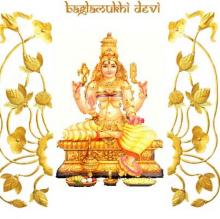 This pooja is Ramban for victory over enemy & success in elections , competitions and law-suits. Baglamukhi is tantrik roop of Devi worshipped for power , victory, protection from operations , accidents and dominance and victory over enemies. Her worship is very effective in warding off spirits , dakinis , shakini and Yakshani. Baglamukhi is identified with Shakti of cruelty. She rules deceit & manipulation which is at the heart of most speech. Thus she can in this sense be considered the mother of all speech.
Mantra: Om Hreem Baglamukhi Sarvadustanaam Vacham Mukham Padam Stambhaya Jihvaam Keelaya Budheem Vinashaya Hlreem Om Swaha
We will inform you the date, time and venue of Online Baglamukhi Puja & Yagna via Phone and your representatives are welcome to attend the same. Our Prices include the following :-
The "Prasad" of the puja is sent to the client via couriers. This Prasad includes the following items that have been energized during the puja.
Mahamrityunjaya Yantra
Baglamukhi Yantra
Energized Gomati Chakra
An Energized Rudraksha during the Puja
Beetle Nut
Kumkum and Akshat (Rice)
Energized Red Thread (Mouli)
Havan Vibhuti
Dry fruits Prasada
Acharya Sumedh Narayan Soni,
Astrologer in Mohali