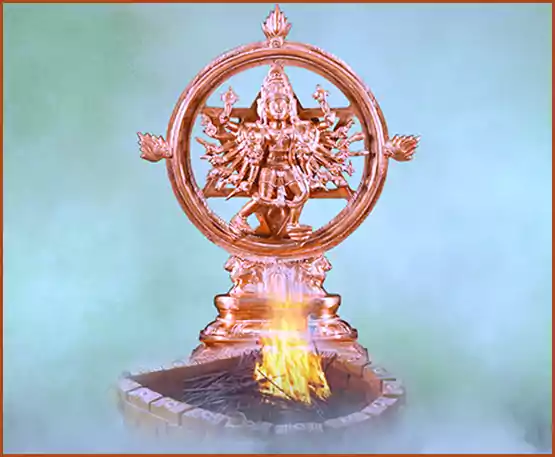 It grants the protection of Lord Vishnu's Sudarshana Chakra and is a protection for the devotee in every way — health, wealth, happiness, job business, all types of evils, dosha nivarana, troubles from enemies, black magic, vasheekaran, evil eye, fear and persecution by evil spirits. Pooja of Lord Vishnu is performed by Vedic Pandits with Tulasi leaves, Purusha suktam is recited and Sudarshana yantra is worshiped with 54000 times Sudarshana Mantra Japa and Homam.
Please note that a "Prasadam" of the puja is sent to the client via couriers. This Prasadam includes the following items that have been energized during the puja and they are supposed to carry the blessings of the puja to the client :
Sudarshana Yantra
An Energized Rudraksha during the Puja
Beetle Nut
Energized Red Thread (Mouli)
Kumkum and Akshat (Rice)
Energized Gomati Chakra
Havan Bhasma
Dry fruits Prasada
A Yantra which has been energized during the Puja with Mouli tied around it. You may follow the Instructions regarding this Yantra (a few yantras can be kept at home while the others may have to be disposed of off as instructed) depending upon the type of Pooja
An Energized 5 Mukhi Rudraksha bead which may be worn by you or alternately the same can be kept on the Puja altar / Cash Box
Kumkum and Akshat (Rice) to be applied on the forehead only once after you have received the Prasadam
Energized Red Thread (Mouli) to be tied on the Right-Hand wrist for Males and the Left-Hand wrist for Females. Please note that this Mouli is very Auspicious and hence it can be tied to the hands of the rest of your family members as well. This mouli creates a Protective and Auspicious Aura wherever it is tied.
An Energized Beetle Nut should be kept on your Puja altar or Cash Box.
An Energized Gomati Chakra to be kept in your Cash Box
Havan Bhasma to be applied on the forehead only once after you have received the Prasadam
Dry fruits Prasadam should be taken by you and your family members.